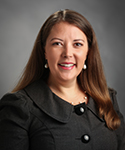 Dana provides comprehensive diagnostic evaluations for ASD. She has worked as a school social worker for over 10 years where she evaluates students to help determine their eligibility in order to receive special education services. Dana helps students progress on their social, emotional and behavioral goals by providing therapeutic social work support on an individual and group basis.
Dana has earned her Master's degree from Wayne State University in social work where she studied the interpersonal/ clinical track with an emphasis in cognitive behavioral therapy. She also received a certificate to work within the school setting and has an additional certificate in performing the Autism Diagnostic Observation Schedule (ADOS-2).
Dana received her Bachelor's degree in social work from Western Michigan University, with minors in psychology and women's studies. She was the recipient of the Robert A. Barstow scholarship at WMU.
In her free time, Dana is an active member of MASSW (Michigan Association of School Social Workers) as well as an avid runner. She enjoys coaching her middle school running club where they train to compete in the Rock CF race to help research a cure for cystic fibrosis.