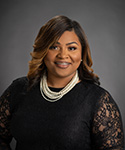 Rockelia serves as the Human Resources and Education Supervisor for HealthCall of Detroit with over ten years of experience in Human Resources. She holds a Bachelor of Science in Organizational/ Interpersonal Communication with a concentration in Human Resources Development from Oral Roberts University. She will receive a Master of Science in Leadership and Organizational Dynamics from the University of Michigan in December 2020. Rockelia provides value to the organization
by planning, developing, and directing the administration of all HR functions, oversee training and development programs; implementing the performance appraisal process, manage accreditation compliance for personnel records, etc. Additionally, Rockelia ensures that policies and procedures are appropriately applied in the organization in accordance with HealthCall's overall HR strategy while complying with Federal and local laws and requirements.
She exhibits leadership as a role model for maintaining the highest standards of ethical conduct. She is ethically responsible for promoting and fostering fairness and justice for all employees at HealthCall. Moreover, Rockelia was previously appointed as a youth leader at a nonprofit organization for urban youth development, and she is presently a member of the Society of Human Resources Management (SHRM), National Association of African Americans in Human Resources (NAAAHR), and Black Young Professionals of Metro Detroit (BYP Detroit).