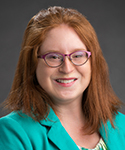 As HealthCall's Health Data Analyst & Client Liaison, Leslie Rott, MA, MHA, PhD, is responsible for managing the organization's data, managing and resolving client and employee complaints, and for creating and administering the client satisfaction survey.  In the role of Health Data Analyst, Ms. Rott is involved in quality and process improvement.  In the role of Client Liaison, the goal is to respond to client complaints in a timely manner and to resolve them in a way that is amenable to all involved in an effort to improve client care and outcomes.
Ms. Rott attended the University of Michigan for her Bachelor of Arts degree in English and Sociology, and for her Master's degree and PhD in Sociology.  Her dissertation, titled, "Stretched to the Limit: Organizations for Short Statured People and the Management of Stigma," explored the role of online and in-person advocacy for health-related advocacy organizations.
She also attended Sarah Lawrence College, where she received a Master's degree in Health Advocacy. Prior to joining HealthCall in 2016, Ms. Rott worked as a Patient Advocate at the Hospital for Special Surgery in New York City.
Outside of HealthCall, Ms. Rott is highly active in the chronic illness online community.  She travels the country sharing her experience living with Lupus and Rheumatoid Arthritis, with the hope of improving healthcare for all patients.