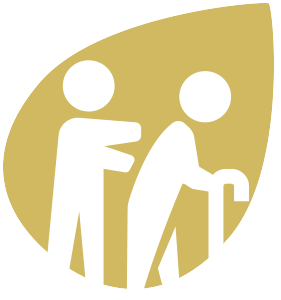 We specialize in treatment that meets the unique needs of people who require in-home health care following a life-altering injury or a serious automobile accident. HealthCall teams focus on post-acute care, including special services for the survivors of traumatic brain injuries and spinal cord injuries.
Our services include skilled nursing, occupational therapy, physical therapy, skilled aide care, and attendant care. These services may be short or long term. Each HealthCall clinical team is led by an experienced Registered Nurse Supervisor who works with the person served and their physician to create an individual care plan that provides the greatest degree of recovery and promotes personal growth and independence.
Our Care, Recovery and Rehabilitation services span three levels of care —
Attendant Care
This is assistance for the activities of daily living, including IADLs, ADLs, and personal care. It can include both medical and non-medical care, specific to the needs of the person served. Examples of attendant care are safety monitoring and supervision, bathing and dressing, meal preparation, housekeeping and transportation assistance.
Skilled Care
Skilled care is provided when someone needs skilled nursing or rehabilitation staff to manage and evaluate their care. Nursing, physical therapy and occupational therapy are examples of the skilled care we offer. Our skilled care teams perform this level of care as well as manage, observe and evaluate the client's ongoing needs.
Skilled Nursing Care
This care must be provided by a registered nurse or a licensed practical (vocational) nurse under the supervision of a registered nurse, due to the complexity of the services. Nurses maintain respiratory stability, provide wound and central line care, perform blood draws, intravenous medication administration, and help maintain nutrition.
Care, recovery and rehabilitation services include:
Respiratory — ventilator and tracheostomy care and management and oxygen administration
Gastrointestinal — G-Tube and colostomy care and management
Medication set-up and management, including PICC lines and all routes of administration, including injections
Care by Certified Nurse Aides
Care by high tech home health aides
Care by home health aides