HealthCall does not discriminate on the basis of race, color, religion (creed), gender, gender expression, age, national origin (ancestry), disability, marital status, sexual orientation, or military status, with regard to admission, access to treatment, or employment.  We are committed to providing an inclusive and welcoming environment for all of our clients, families, staff, students, subcontractors, and vendors.
Admission Criteria – Home and Community Services
HealthCall is a dually-accredited home and community services and private duty nursing agency. Admission to one of HealthCall's three home and community services programs – Pediatrics, Brain Injury Program, or Care, Recovery and Rehabilitation – can only be made under the direction of a physician, based upon the client's identified care needs and the type of services required. Additionally,
The client must live within the agency's geographical service area, which includes more than 12 counties across Southeastern Michigan.
The client must maintain a Primary Care Physician.
The client must meet reasonable expectations that their needs can be met within his/her place of residence.
The minimum service increment is four (4) continuous hours per day.
Admission Criteria – Behavioral Services
HealthCall Behavioral Services provides compassionate, comprehensive, evidence-based care to clients with autism and behavior concerns. It is required that all service delivery models and strategies are based on accepted practices in the relevant field and incorporate current research, evidence-based practices, peer-reviewed publications, clinical practice guidelines, and / or professional consensus.  Admission to one of HealthCall's four Behavioral Services programs – Comprehensive Diagnostics, Applied Behavior Analysis (ABA), Speech Therapy, or Occupational Therapy – is subject to the following criteria:
All Behavioral Services are provided in HealthCall's clinics in Royal Oak and Berkley, Michigan with the limited exception of on-site diagnostics for Lenawee, Livingston, and Washtenaw Counties.
ABA, Speech and Occupational Therapy services are for children ages 2 years through 10 years 11 months of age.
Diagnostic services are for children ages 18 months through 16 years of age.
The minimum service increment for ABA services is ten (10) hours per week per BACB guidance, absent an approved exception by a treating Board Certified Behavior Analyst (BCBA).
Some services may require prior authorization by the client's insurer, as directed by the client's summary plan description of benefits.
Insurance
Insurance Plans Accepted at HealthCall include a Large Variety of Medicaid* and Private Insurance Plans (both HMO and PPO) as well as No-Fault Automobile Insurance, Long Term Care Insurance, Workers' Compensation, and Private Pay.  In-network coverage includes, but is not limited to:
Aetna
Blue Cross Blue Shield
Blue Care Network
Blue Cross Complete
Children's Special Health Care Services
Evernorth Behavioral Health (formerly Cigna Behavioral Health)
Habilitation Supports Waiver (HAB Waiver)
HAP
Meridian
Mi Choice Waiver
Optum
Priority
United Community Plan
United Health Care
*HealthCall partners with area Medicaid authorities including, but not limited to: AAA 1-B, Children's Special Health Care Services, Community Living Services (Oakland and Wayne Counties), D-AAA, Easter Seals, The Guidance Center, Lenawee Community Mental Health, Livingston Community Mental Health, Macomb Community Mental Health, MORC, Oakland Community Health Network, Oakland Family Services, and Washtenaw Community Mental Health.
---
HealthCall complies with all applicable Federal civil rights laws and does not discriminate on the basis of race, color, national origin, age, disability, sex or gender identity.
As of July 2023, HealthCall actively provided services to: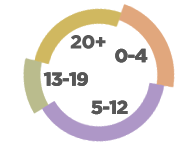 66 clients ages 0-4


119 clients ages 5-12


11 clients ages 13-19


52 clients ages 20+