To ease your transition from school to nursing career, HealthCall offers a new graduate nursing program to start you on the right path.
The New Graduate Program in Community Nursing is a formal education and training program for recent graduates of RN and LPN programs who have not previously worked as nurses or who have less than 12 months professional experience in those roles. The purpose of the program is to foster a successful transition to the role of RN or LPN and help you understand the private duty nursing setting. The program also optimizes quality patient care and the retention of high-performing professionals.
Program Format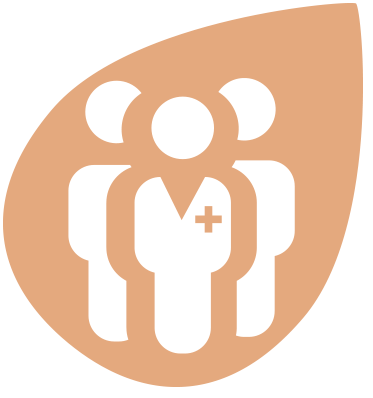 The program consists of classroom educational presentations, initial follow-up competency validation and development plans, clinical rotation under the supervision of qualified preceptors, and ongoing meetings with the clinical team, preceptor and others to assure progression and advancement on the continuum from novice to competent performance. Our program is facilitated by nurse experts with special emphasis on: clinical skills, critical thinking skills, leadership abilities, communication skills, patient safety, and professional career development. The Program also includes completion of HealthCall's Adult and Pediatric Respiratory Assessment and Management Course, at no cost. This course is 6.2 accredited contact hours.
Most nurses accepted in the Program will complete orientation within 2 1/2 weeks. Program participants must be willing to make a one year commitment, either part-time or full-time, to HealthCall following completion of the Program.
Goals
Prepare the new graduate to provide safe and competent nursing care to pediatric and adult patients

Reduce anxiety associated with being a novice in the nursing profession

Facilitate assimilation to the private duty nursing environment through support systems

Develop effective communication skills
Objectives
At the completion of the program, the participants will be able to:
Successfully handle pediatric and adult patient assignments, including ventilator-dependent patients

Demonstrate a complete physical and psychosocial assessment on a patient

Take appropriate problem-solving actions when confronted with a clinical or administrative dilemma

Work cooperatively and effectively with physicians, family members and other members of the healthcare team.
Programs Dates
HealthCall's New Graduate Program in Community Nursing accepts one incoming class Annually.  The 2022 Fall program will begin October 2022. Applications for the Fall program are due by August 2022. There is no cost to participants in the program, and participants will be compensated during the program.
Space in the program is limited; only six nurses will be selected to participate.
---
Application Requirements and Process
For consideration, all four application components must be received be the Human Resources Department by the application deadline of August 2022. It is required for the cover letter, resume, and transcript(s)/diploma to be submitted together.
The application requirements include:
Online Job Application: Please submit an online application through our website. All applications are subject to thorough background and security checks.
Cover Letter and Resume: Applicants should submit a cover letter and resume along with the transcript(s)/diploma, and any other application materials (except the Recommendation Form, described below) to Attention: Human Resources, HealthCall, 28000 Woodward Ave, Suite 100 Royal Oak, MI 48067. The cover letter should address the following questions: (i) What appeals to you about pediatric nursing and/or community nursing? and (ii) how does your philosophy of nursing align with HealthCall's mission?
Unofficial Transcript(s) and Diploma: Please submit a copy of your unofficial transcripts and diploma for highest degree earned by mail along with your cover letter, resume, and any other application materials as directed in Number 2, above.
Recommendation Form: Please have a recent clinical instructor, college professor, nurse preceptor, or manager complete the 

online recommendation form

. This form speaks to (i) the applicant's clinical skills (including clinical practice/judgment, organization of work, and technical skills); (ii) attitudes toward work (including initiative, flexibility, teamwork, and integrity), and (iii) personal qualities (including professionalism, attendance, and communication skill).
Applicant Eligibility
Individuals may apply following graduation from an accredited nursing school and prior to obtaining licensure, but they will not be permitted to participate in the program until State of Michigan licensure is obtained. Applicants must also meet the following minimum requirements:
Less than one year experience as a licensed RN or LPN, as applicable

Valid driver's license

Current CPR certification

Copy of updated TB results/chest x-ray

Ability to lift up to 50 lbs

Reliable transportation
Reminder and Tips
Please put your name on each page of your cover letter, resume, and any other materials mailed to Human Resources.
Interviewing Process
Applications will be reviewed as they are received. Human Resources will contact selected applicants by email or phone to schedule an interview.