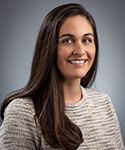 Courtney Vander Werp is a licensed Occupational Therapist providing comprehensive evaluations and treatment for the pediatric population at Healthcall.  She has experience in a variety of client populations and settings including, schools, inpatient hospitals, and outpatient facilities.  She enjoys helping clients reach their maximum level of independence.
Courtney graduated from Aquinas College for her undergraduate studies with a focus on Psychology.  Her passion for helping people began after working in a group home for adults with developmental disabilities.  She realized then that she wanted to pursue occupational therapy as a career.  Courtney went on to earn an Occupational Therapy Assistant degree from Grand Rapids Community College.   She later earned her Master of Science degree in Occupational Therapy from Grand Valley State University.
She began work as an OT in the public school system providing sensory processing support for students with emotional and physical impairments.
Courtney is eager to put her specific skill set to use in helping Healthcall clients realize their full potential by improving function within their daily lives