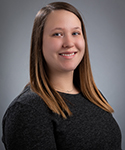 Jessica has worked with a wide age range of individuals with autism spectrum disorder (ASD) in clinical, community, home, and school settings for over ten years. She graduated with her Masters of Art in Applied Behavior Analysis (ABA) from Michigan State University in May 2018 and obtained her Board Certified Behavior Analyst certification in September 2018.
Jessica is also a certified special education teacher. She is passionate about teaching preschool and academic readiness skills as well as verbal behavior skills to young children with autism to help them prepare for and excel in a school setting.
Jessica joined the HealthCall team in November 2019. She is the ABA Practicum Coordinator at HealthCall in which she organizes and oversees the practicum program and supervision of graduate student employees. Jessica is currently pursuing her PhD in Disability Disciplines with a focus in ABA at Utah State University. Her research focuses on examining the effectiveness of activity schedules and generative learning strategies for preschoolers on the autism spectrum.