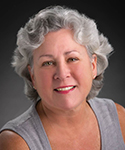 Martha Shaver RN, BS, MPA is responsible for clinical and regulatory oversight of private duty services. She ensures that the organization meets all accreditation guidelines as set forth by the Community Health Accreditation Program (CHAP) and CARF International. Ms. Shaver has been a practicing registered nurse for over 30 years. She has extensive clinical and administrative experience in emergency medicine, college health, and primary care services.
Additionally, Ms. Shaver is a member of The CARF International surveyor team, and she will be available to survey both domestic and international home and community based healthcare organizations, including those specializing in Traumatic Brain Injury Programs. Prior to joining HealthCall, she served as the Director of Blood Collection Services for the American Red Cross, Great Lakes Region. She has also served as an adjunct instructor for health careers at Lansing Community College.
Martha is a Certified Brain Injury Specialist (CBIS).  Certification as a Brain Injury Specialist provides recognition of an individual's advanced training and work experience in brain injury services.  The completion and certification process demonstrates the Specialist's commitment to learn about brain injury rehabilitation and to maintain that knowledge through continuing education.  The certification also shows that the Specialist is dedicated to providing improved quality of care for persons with brain injuries.