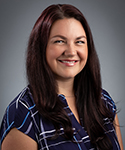 Michelle Brinsden provides comprehensive diagnostic evaluations for ASD and has earned her certificate in Autism Diagnostics Observation Schedule (ADOS-2). Michelle also provides clinical supervision and consultation for the behavioral health limited license social workers. Outside of Health Call Michelle provides outpatient therapy for individuals, children and families.
Michelle earned her Master's Degree in Social Work from Wayne State University, where she focused on Family Systems and Interpersonal/Clinical Social Work. Michelle also has a Bachelor's degree in Social Work with a Minor in Sociology from Western Michigan University.
Michelle has experience as an adjunct professor at Wayne State University where she taught Family Systems and DSM 5 graduate courses. Michelle also worked at The Judson Center for 10 years specializing in Child and Family Welfare and as a Program Manager for the Autism Connections Program.
Throughout her 13 years of experience, Michelle has specialized in clients with Autism Spectrum Disorder, Anxiety Disorders, Trauma, Abuse/Neglect, Grief/Loss, Foster Care/Adoption, Juvenile Justice, Adjustment Disorder, Oppositional Defiant Disorder, Mood Disorder, ADHD and Depression.  She has experience providing therapy using an array of treatment modalities such as, Cognitive Behavioral Therapy, Dialectical Behavioral Therapy, Person Centered, Solution Focused/Strength Based, Trauma Focused Interventions and Motivational Interviewing.
In her free time Michelle loves to spend time with her children, family, friends and cats. Michelle loves to do anything creative and enjoys the outdoors, walking, going to the park and boating. Michelle believes in the power of the "Here and Now" and practices mindfulness meditation and yoga.
Dana has earned her Master's degree from Wayne State University in social work where she studied the interpersonal/ clinical track with an emphasis in cognitive behavioral therapy. She also received a certificate to work within the school setting and has an additional certificate in performing the Autism Diagnostic Observation Schedule (ADOS-2).
Dana received her Bachelor's degree in social work from Western Michigan University, with minors in psychology and women's studies. She was the recipient of the Robert A. Barstow scholarship at WMU.
In her free time, Dana is an active member of MASSW (Michigan Association of School Social Workers) as well as an avid runner. She enjoys coaching her middle school running club where they train to compete in the Rock CF race to help research a cure for cystic fibrosis.