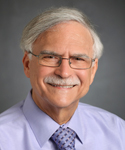 As the Founder and Chairman of the Board, Sanford Szirtes has more than 30 years of healthcare and operations experience. In his role as Chairman of the Board, Mr. Szirtes is responsible for the overall direction of HealthCall as well as the development of organizational plans that align with the company's mission and values. Mr. Szirtes is also a Registered Pharmacist and a Certified Case Manager. Prior to founding HealthCall in 1987, Mr. Szirtes owned and operated Medic's Pharmacy in Detroit, Michigan for sixteen years.
Mr. Szirtes is a member of the Michigan Pharmacist Association, the Oakland County Pharmacist Association, the Brain Injury Association of Michigan, and the Academy of Certified Case Managers (ACCM). He earned his Bachelor's in Pharmacy degree from Wayne State University in 1974 and became a Certified Case Manager in 2009. As an amateur photographer, Mr. Szirtes is also a member of Motor City Camera Club and Greater Detroit Camera Club Council. To date, Mr. Szirtes has received seventeen awards for his photographs.
Sandy is a Certified Brain Injury Specialist (CBIS).  Certification as a Brain Injury Specialist provides recognition of an individual's advanced training and work experience in brain injury services.  The completion and certification process demonstrates the Specialist's commitment to learn about brain injury rehabilitation and to maintain that knowledge through continuing education.  The certification also shows that the Specialist is dedicated to providing improved quality of care for persons with brain injuries.